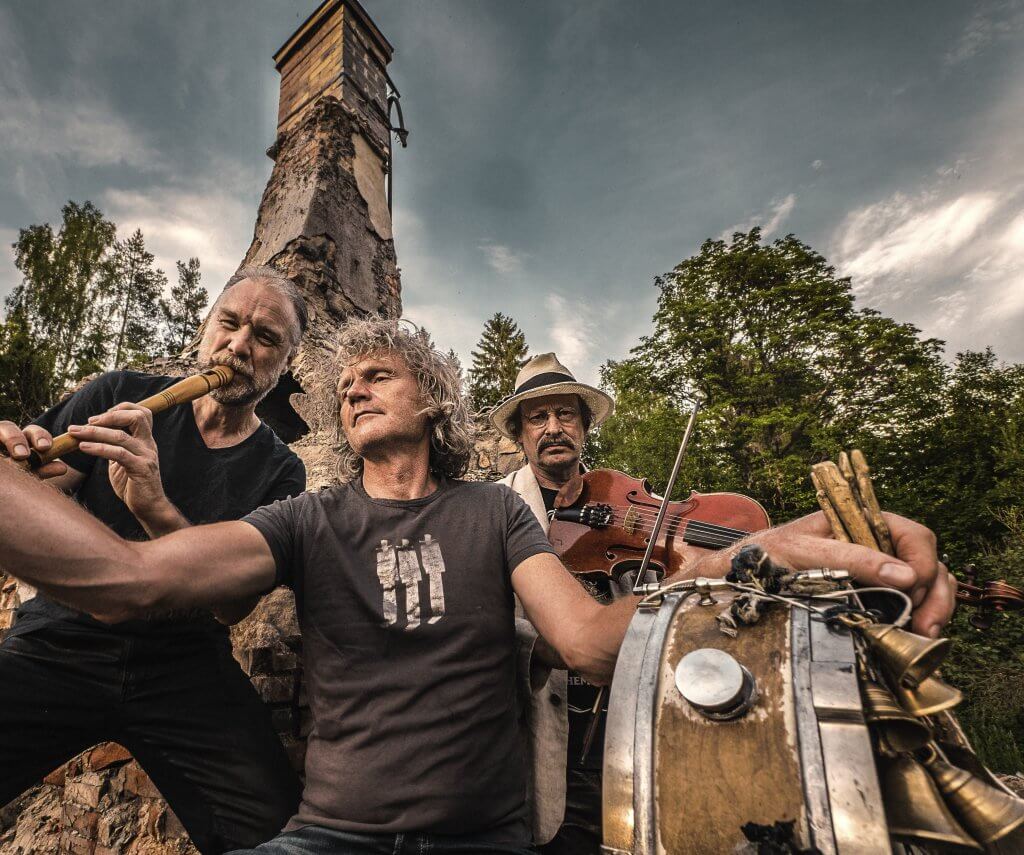 I sin albumserie Kind of Folk fortsätter trion återuppfinna den nordiska folkmusiken – den här gången med fokus på Norge. Traditionella melodier möter nyskapande instrumentering och finkänsliga improvisationer. Den nya skivan följer upp den grammisnominerade Kind of Folk – Vol. 1 Sweden från 2016.
Musik som spelats vid allt från bröllop till begravningar,det är utgångspunkten. Från vallåtar och kulning till Grieg. Groupa sträcker ut låtarna, betraktar dem ur olika vinklar och gör dem till sina egna – ofta finns bara en antydan av originalet kvar i deras version.
För att fånga sitt säregna sätt att mötas i improvisationer bestämde sig Groupa för en avskalad och intim metod i inspelningsstudion.
– Lyssningen och kontakten är oerhört viktiga. Det handlar om att känna, uppleva och höra närheten, säger Jonas Simonson, som spelar en mängd olika flöjter på albumet.
Musikerna ställer liksom frågor till varandra på sina instrument, och ur svaren växer en rikedom av klanger och bilder. Dofter från fjällbäckar, rusningstrafiken i Oslo, myggbett på hjortronmyren och solens stilla vandring ner över Finnmarken. Det är ett album som utspelar sig i mellanrummen, i andetagen mellan spröda flöjttoner, i fiolens och mungigans efterklang.
Bland de 14 spåren finns psalmer som Syng i stille morgonstunder, en slängpolska – och så en lekfull improvisation inspirerad av det styckesom kanske allramest förknippas med Norge – Morgenstemning – som i Groupas version heter Kirkenes – Mandal: Gles och luftig, ambient skulle man kunna säga. Temat spelas på skifferstenar med en försiktighet som vore det världens första melodi.
På sina olika sätt har alla tre medlemmarna starka band till folkmusiken från Norge. Mats fastnade som tonåring i Värmland för de melodier han hörde från norska spelmän och hardingfelemusiker. Senare studerade han hardingfela för Ånon Egeland och reste runt och samlade in musik från både Värmland och östra Norge. Terje Isungset (slagverk och mungiga) är född och uppvuxen i norska Geilo och har spelat folkmusik sedan barnsben. Jonas inspirerades tidigt av tonspråket och de långa kedjelika gangarna och springarna i den norska musiken.
English version
Combining innovative instrumentation and an ever-curious sense of improvisation with a deep love for traditional Nordic music, Groupa plays some of the most exciting folk music of our time. Using instruments such as mouth harp, overtone flutes, viola d'amore, bells, stones, wood, and melodeon, they draw fresh colors and explore new musical dimensions. In the sounds of Groupa, you will find a composed picture of the traditions of yesterday, the whims of today, and the possibilities of tomorrow.
The original band was founded as a five-piece in 1980. Through intense gigging and the releases of their first albums – Av bara farten (1983), Vildhonung (1985) and Utan sans (1988), Groupa became a vanguard of the progressive folk music scene in Sweden, along with other groups like Filarfolket. Mats Edén (fiddle, viola d'amore, hardanger fiddle, accordion) is the artistic hub and the only remaining member from its beginnings in 1980. Since then, many highly acclaimed musicians have taken part in the journey that is Groupa's career: Leif Stinnerbom, Inger Stinnerbom, Bill McChesney, Thomas Gabrielsson, Hållbus Totte Mattson, Gustav Hylén, Rickard Åström, Tina Quartey, Helge Norbakken, Sofia Karlsson.
Over the years the band has collaborated with Ale Möller, Alag M'bye, Lena Willemark, the chamber orchestra Musica Vitae, Ingfrid Breie Nyhus, Guro Kvifte Nesheim amongst others. The band currently consists of Edén along with Jonas Simonson (flutes, bass clarinet), and Terje Isungset (drums, percussion, mouth harp), who joined in 1983 and 1997 respectively.
In 1987 Groupa received the "Volkkunstpreis F V S zu Hamburg". Come the next decade, the band could be enjoyed in numerous Swedish towns, performing as one of the pillars that made up the collaborative touring project Folkmusiktältet during the summer of 1990. The following year they were awarded a Grammy for their fourth album Månskratt, featuring Lena Willemark as guest vocalist. The motivation of the jury read: "For pulling the old woolly feeling off folk music with a curious smile!" Some 25 years later, the same album was named the sixth most significant Swedish folk music album ever by the magazine Lira. Groupa received a second Grammy in 1996 for their album Imeland. This time in competition with best-selling artists Rikard Wolff and Stefan Sundström.
In 1997, Groupa was joined by Terje Isungset who added a unique rhythmic sensitivity as well as a range of unusual timbres from materials such as wood, stone and even ice, used by this Norwegian master of experimental percussion music. One reviewer wrote refering to Isungset's addition to the band: "… high-energy jew's-harp zizz as well as percussion, like an earthquake in Santa's workshop."
As a quintet featuring singer Sofia Karlsson, Groupa released two albums: Lavalek in 1999 and Fjalar in 2002.
"On top of that are the just-right vocals of the other newish Groupanaut, Sofia Karlsson, who like Isungset is now fully integrated and takes an equal part in arranging and composition. With her, the band has turned another corner in its long and continuously interesting career, the backbone of Swedish new-roots since the early 1980s." Andrew Cronshaw, fROOTS Magazine, 2002
"Lavalek is the most expansive and curious excursion the band has ever taken, working with a broader ambiance, an interesting mix of gentle, natural acoustics and aggressive use of percussion and electric keyboards." Cliff Furnald, Roots World, about Lavalek.
Since 2007 Groupa has mainly worked as a trio. Their first trio album, Frost, was released in 2008. They have also engaged in collaborations with a number of other musicians.
In 2011, Groupa were joined by singer Lena Willemark on tour, performing with the Swedish chamber orchestra Musica Vitae. The following year they performed a highly acclaimed showcase at Womex in Thessaloniki.
In 2014, the album Silent Folk was released and received a great number of positive reviews. One writer called Groupa's music "minimalist music played to maximum effect."
2016 saw the release of the album Kind of Folk – Vol. 1 Sweden, interpreting traditional Swedish melodies, as well as presenting a few of their own tracks. Rootsworld's reviewer said about the album that "Groupa's way of blending the old and traditional with the new and unusual is phenomenal. "
In the summer of 2018, Groupa performed in concert together with Ingfrid Breie Nyhus and Guro Kvifte Nesheim at the chamber music festival Musik i Äppelriket.
In the same year, Groupa continued exploring and reinventing Nordic folk music on their eleventh album, Kind of Folk – Vol. 2 Norway.
Ever since the start, Groupa has been a very popular live band. The band tours Sweden, Scandinavia and Europe extensively, and has appeared at the following festivals: Roskilde Festival, Musik over Præstö fjord – Denmark, Folk Festival Dranouter and Gooikoorts – Belgium, Jazz & Heritage festival New Orleans, Nordic Roots Festival, Minneapolis – USA, Folk Alliance, Vancouver – Canada, Pontardawe and Wadebridge – UK, Leipzig Tanzhausfest, Rudolstadt Folk Festival and folkBaltica – Germany, Violin and Village Festival in Maramures – Romania, Festival Porta in Riga – Latvia, Kaustinen Folk Festival and Haapavesi Folk Festival – Finland, Falun Folk Music Festival, Stockholm Water festival, Urkult vid Nämforsen, Hultsfredsfestivalen, Korrö- stämman, Linköpings folkmusikfestival – Sweden and many others. Groupa has also toured India.